Under What Circumstances Will You Choose Pick To Light System?
Share
publisher

Sertag
Issue Time

2022/12/08
Summary
The electronic label pick to light system is a group of electronic equipment installed on the shelf storage space. It is controlled by the computer and software, and uses indicator lights or digital displays as auxiliary tools to guide the picking workers to complete the work correctly, quickly and easily.
As a professional China electronic shelf label manufactuer ,Sertag has a very rich product line, such as: 2.4G electronic shelf labels, wifi electronic labels, pick to light eink tags , bluetooth electronic shelf labels.
Of course, the fields of application of different products are also somewhat different. Today I will introduce pick to light system electronic labels .
The electronic label pick to light system is a logistics auxiliary operation system developed using advanced electronic technology and communication technology. It is usually used in the sorting process of warehousing or modern logistics centers. It has fast picking speed, high efficiency, low error rate, and paperless , Standardized operating characteristics. As an advanced operation method, the electronic label assisted picking system is more efficient when used in conjunction with a warehouse management system (WMS) or other logistics management systems.
Here is the architecture of pick by light electronic labels as below :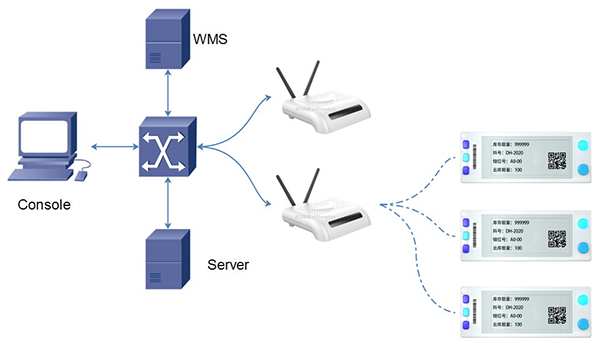 The pick to light
electronic labels
has the following advantages:
1.
Improve operation speed and quality 2.
. Easy and fast deployment
4.
Reduce operator training time
5. Reduce labor costs, management costs, etc
Here Sertag bluetooth electronic labels are widely used in the warehousing and
Intelligent Fab Automation and smart factory.