Under What Circumstances Will You Choose Wifi Sertag Electronic Shelf Labels?
Share
publisher

Sertag
Issue Time

2022/11/22
Summary
Sertag wifi electronic shelf labels are widely used in meeting room ,intelligent door plate , industrial kanban , smart medical care, etc.
As a professional China electronic shelf label manufactuer ,Sertag has a very rich product line, such as: 2.4G electronic shelf labels, wifi electronic labels, pick to light eink tags , bluetooth electronic shelf labels.
Of course, the fields of application of different products are also somewhat different. Today I will introduce Wifi eink digital tags
Here is the architecture of wifi eink digital smart tags as below :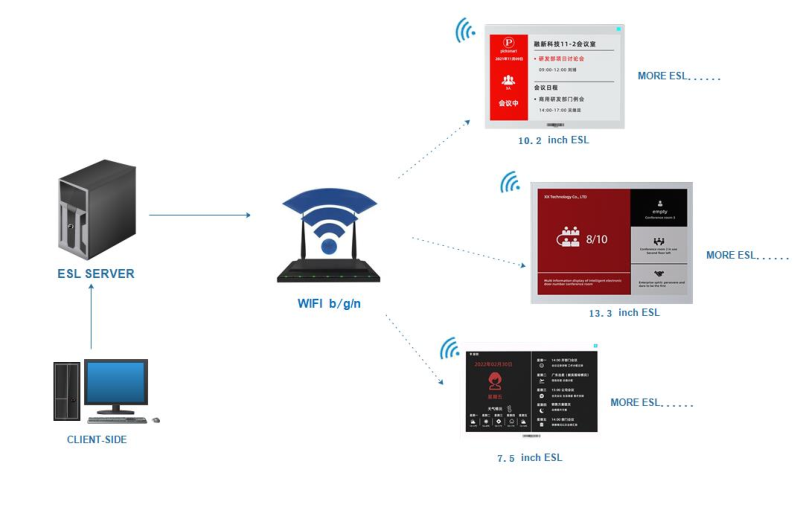 The wifi eink digital tags has the following advantages:
1O
peration convenience
.
wifi eink digital tags donot need base station to control ,so it is operation convenience
2.Various power supply methods.
Lithium battery power supply support USB charging or Disposable large-capacity battery,for 4.2inch we also can proivde button cell to supply
3.
Product size is complete
.
For wifi eink electronic labels , we can provide 4.2inch , 7.5inch ,10.2inch and 13.3inch
4.Sertag wifi electronic shelf labels system is more open. If you are a system integrator, we can provide API interface to you. If you are a enk user, we can provide the software for you
5.
Multi-function operation interface
Web-side software, you can remotely control tags by entering the URL View tag status in real time Label display style template customization System software supports cloud and local private server deployment Quickly refresh and light up Simple docking interface Minimalist management, minimal deployment Display content support: text, barcode, QR code, background picture Multi-account management background
6.System docking interface
HTTP protocol interface, Json format, examples are as follows:
The template is DIY designed in our system. Each template has a template number. When docking, you only need to send the corresponding template number and field content, and our system will make it according to your template style. Interface data, a heartbeat cycle comes, the data can be refreshed to the screen
Here Sertag 2.4G eletronic shelf labels are widely used in retail, supermarket , s
mart medical care, industrial kanban in digital factories, etc.