Electronic shelf labels will Drive the Development of New Retail
Share
publisher

Sertag
Issue Time

2020/09/14
Summary
electronic shelf labels , digital price tags,eink epape display, esl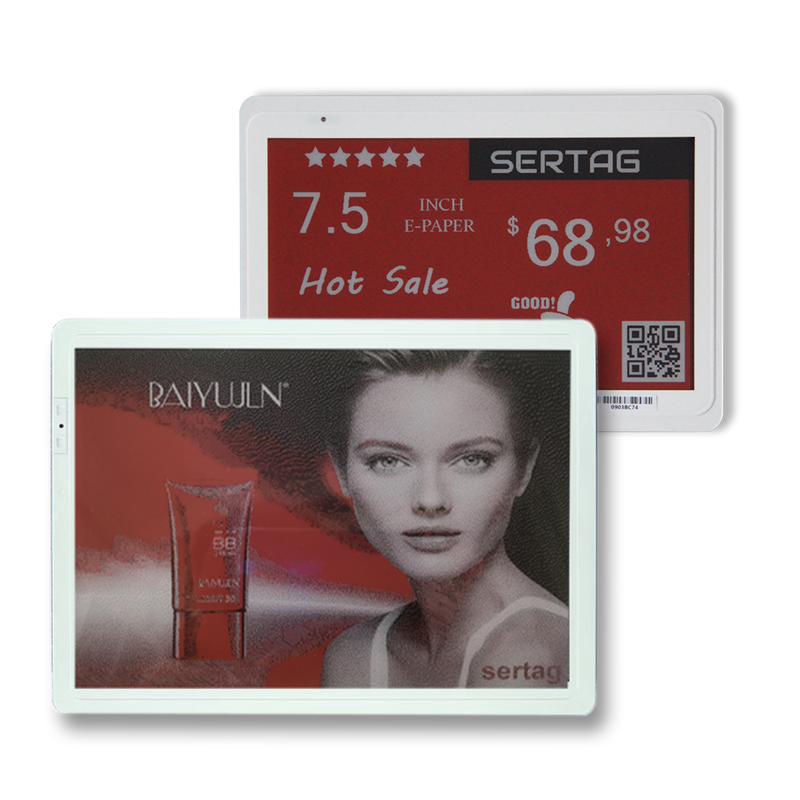 First of all, the trend of replacing paper labels with digital price tags (ESL) is unstoppable.
An eink epaper display tags system usually consists of four parts: tagS, terminal scanner, AP base station, and management platform.Electronic labels is at the heart of the system, so it tends to combine bluetooth modules with e-ink display .The ESL is an electronic display device with the ability to send and receive messages.It is mainly used in supermarkets, convenience stores, pharmacies and other digital labels that display price information.The label is the part of the customer's concern, the display material is selected for e-ink paper, the network communication is selected for low-power Bluetooth module is the current manufacturer's mainstream choice.
The advantages of e-ink paper tags are as follows:
First, e-ink screens are light, thin and more durable than conventional LCD displays.
Second, high reflectivity and ultra-low power consumption.Most monitors use backlight to illuminate the pixels so that they can be seen more clearly.E ink screens reflect light from the environment with high reflectivity and contrast, just like regular paper.No backlight required, greatly reducing energy consumption.At the same time, e-paper can retain original text and images without requiring constant power.This makes the e-ink screen label static display no power consumption, long battery life, power outage does not affect the price display.
Third, high visual comfort.E-ink screens are generally considered better for reading than regular displays.Like paper products, e-ink screens have wide viewing angles, making them ideal for reading in sunlight without being dimmed by highlighter images.
In the aspect of network communication, considering the cost and application effect, the scope of communication module is limited.Due to the high power consumption of WiFi, BLE (low power Bluetooth module) is a good choice.Button batteries can last for months to years.
Therefore, the core components of ESL are mainly the e-ink screen and the control processor of the integrated low-power Bluetooth module.This combination not only has a relatively high cost-performance ratio in terms of cost and function, but also is favored by manufacturers.