Eink display tags are suitable for different stores in the supermarket
Share
publisher

sertag
Issue Time

2020/01/07
Summary
eink display tags, electronic shelf labels,bluetooth esl, digital price tags,electronic price tags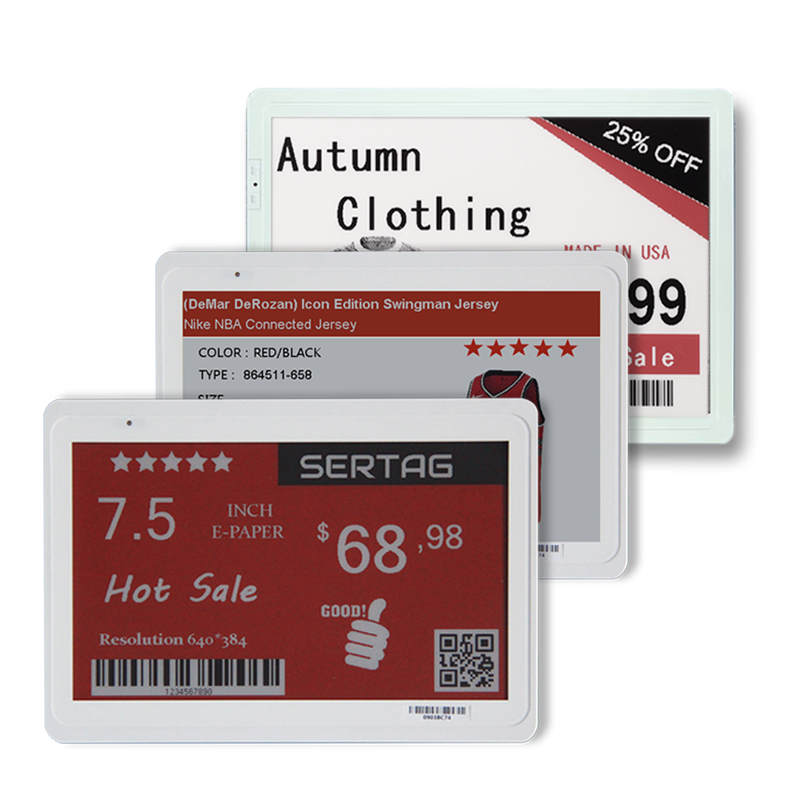 The value of electronic price tag is gradually discovered with electronic shelf label becoming the new favorite of the retail industry, especially supermarkets and unmanned supermarkets.
Supermarkets are divided into different stores according to the type of goods, and different stores are adapted to different sizes and functions of electronic labels. Today, we will discuss with you what electronic price tags are suitable for different areas of the supermarket.
1. Puffed food area, beverage area and daily necessities area
Puffed food area, beverage area, commodity area products are generally placed neatly, cover a small area, the product spacing is not big. 2.9-inch electronic price tag for railway installation. The track electronic price tag is arranged neatly, beautiful in sight and easy to disassemble.

2. Fruit and vegetable area

People think of food as the sky. The fruit and vegetable section is a popular destination. Customers pay more attention to the cost performance of fruits and vegetables. For regular vegetables and fruits, use a 2.9-inch electronic sticker that clearly shows the price of the product. Or 7.5-inch screen electronic price tag to attract customers with low prices.

3. The seafood section

The seafood area mainly sells crabs, lobsters, fish and other products that need to be added with water or ice to keep them fresh. Electronic price tag waterproof grade is higher. Electronic price tags with waterproof rating up to IP67 should be used.

Using esl with built-in temperature and humidity sensors, supermarket employees can remotely monitor the real-time temperature and humidity of the area where the seafood is located. When the temperature is abnormal, the mobile terminal issues an alarm to remind the supermarket staff to pay attention to the temperature. Abnormal conditions, so as to timely find and deal with the problem, to avoid the economic loss caused by temperature anomalies.
Therefore, the seafood area is suitable for the use of IP67 waterproof grade, with its own temperature and humidity sensing function of the electronic price tag.

Four. Frozen food section

Ice cream, dumplings, dumplings, frozen seafood and other food need to be frozen in the refrigerator. The temperature in the refrigerator is generally below zero, and the electronic price tag has special requirements for the working temperature. You need an electronic price tag that works at low temperatures.

5. 3C electronic area

People are more concerned about the parameters of electronic products. Large screen electronic price tags can display more information about product parameters, so the 3C electronic area is suitable for placing 7.5-inch electronic price tags.

6. Discount and promotion area

To attract customers, the price tag in the discount promotion area must be more visible. So choose a 4.2-inch or 7.5-inch electronic price tag with a larger screen and a built-in LED light (which flashes to indicate discounts).

Meat section, cooked food section, bread section, etc., generally use 2.9-inch electronic price tag, which can clearly display the price and date information.