China electronic shelf labels changes the future of electronics stores
Share
publisher

sertag
Issue Time

2019/11/13
Summary
China electronic shelf labels,electronic ink display,esl, epaper digital price tag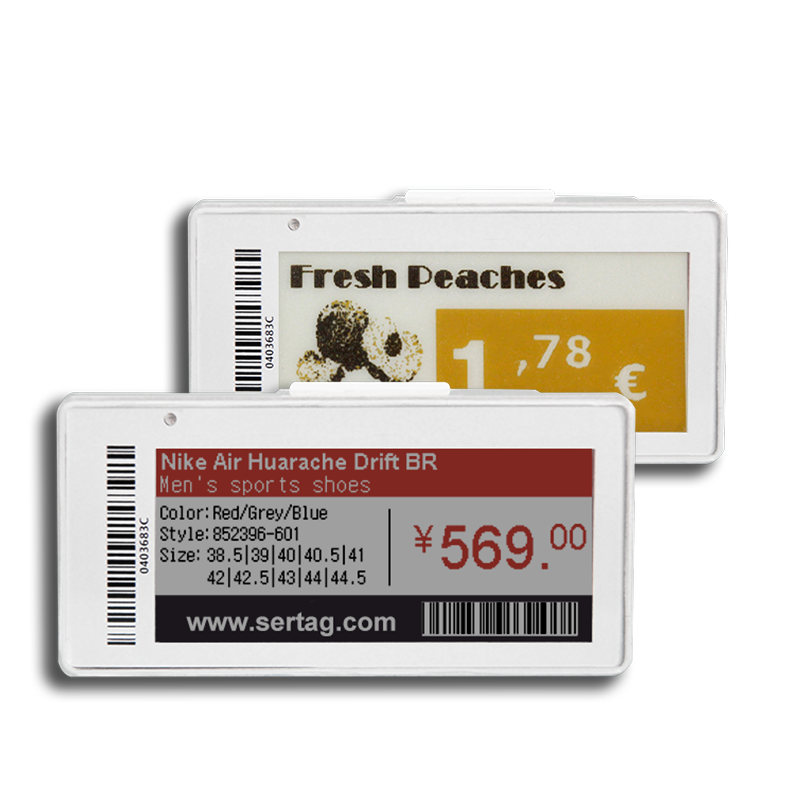 The China Electronic Shelf Label is an electronic ink display that can be placed on a shelf to replace traditional paper price tags. It can display information such as product name, origin, price, etc. (text, picture, QR code, etc.). At present, Dalian Sertag Technology Co., Ltd. has introduced 1.5-inch, 2.13-inch, 2.9-inch, 4.2-inch, 7.5-inch, 12.48inch and other sizes. In order to meet the needs of various industries, we have independently developed NFC, Bluetooth, and 433 epaper electronic price tags.
Esl advantage
1, multiple management functions, each epaper digital price tag has a unique ID number
2, waterproof and dustproof seal design;
3. The entire tag working mode is realized by wireless transmission, which simplifies and reduces the installation and maintenance costs;
4. Reduce maintenance costs and reduce the price tag labeling;
5. Environmental protection and energy conservation, enhance the image of the store and improve customer satisfaction.
6, packaging materials: PVC environmentally friendly materials